What to do
Where to go
Fairy Chimney Cappadocia
Narlıgöl Crater Lake
Uçhisar Castle
Cappadocia, with its mesmerizing structure resembling a sci-fi movie, is one of the remarkable places where rarely seen artistic beauty of nature meets the patient touch of centuries-long human labor. Spectacular fairy chimneys that came into existence as a result of intense volcanic activities in ancient times, stunning early human settlements carved inside these formations and the role it played particularly in Christian history, make Cappadocia a place of great interest for tourists every year. The best way to view the real beauty of Cappadocia, which hosted the setting for 2014 Cannes Film Festival Golden Palm award winner movie Winter Sleep, is to take a balloon tour and enjoy the unique view from the sky. Hosting these unique beauties, Cappadocia also offers different tastes for tourists with their own local wine production.
The formation of the reputed fairy chimneys of Cappadocia began with erupted lava hardening and forming layers over a long period of time. After the extinction of the volcanos, those soft structures were sculpted by rivers and wind over millions of years. The fairy chimneys gradually took their present shapes by winds blowing from various directions, rivers having different speeds in different depths and the separation of certain parts finally through abrasion. The fairy chimneys' unique shape is formed as a result of the upper rocks getting harder comparing the lower layers. These rarely seen volcanic and geological formations add a magical atmosphere to the region and as a result, draw an influx of visitors ever year.
Cappadocia, where the first human settlements are believed to have been built in the Paleolithic era, and where the Hittites settled in ancient times, had hosted innumerable ancient civilizations in Anatolia during this time. Later, Cappadocia came under the rule of the Persian Empire, the Macedonian Kingdom under the command of Alexander the Great, Seljuks and the Ottoman Empire respectively, and held a very important place in the region especially as a commercial and religious center. Being an important center in spreading Christianity in Anatolia during the early period of Christianity, Cappadocia became a center for training clergy. In fact, after the Roman Empire accepted Christianity as it's official religion, John of Cappadocia was appointed as the religious leader and Patriarch of Constantinople, between 517 and 520..
You must spare a large part of your Cappadocia trip undoubtedly for visiting the fairy chimneys. The Balloon tours organized on windless days take about an hour and leave you with an unforgettable view that will remain with you for the rest of your life. When you go to Cappadocia, you must also visit Avanos and Urgup, stop by Narlıgöl Crater Lake, and visit Uçhisar castle. It is also possible to visit wine production facilities to learn about wine production as well as tasting the famous wines of the region. You can rest in the evening by participating in fun activities in Cappadocia's hotels and prepare for your next day trip.
Gallery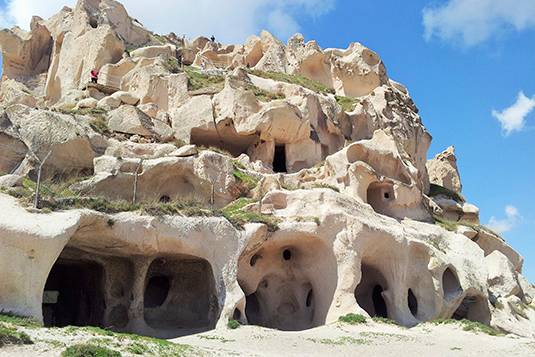 Video